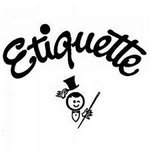 Graduation Rules
The Rules of Graduation Etiquette
For Adults and Students/Children
1. Come on time. This is the first and greatest rule.
2. Refrain from Talking. This is the second greatest rule.
This rule includes; whispering or disciplining your children. If your children will not quiet down please take them out of the gym.
3. Do not walk in front of the audience when graduation commencements begin. Wait to be seated, when the speaker has finished the ushers will open the barrier. Do not push your way through. Do not stand in the entry doorway.
4. NO yelling, loud obnoxious noises, or profanity.
5. TURN OFF all cells phones, watch alarms, beepers and other electronic devices.
6. There is to be NO food or drinks of any kind in the gym.
7. Dress appropriately for the significance of the event, even though it will be warm.
8. Applaud at appropriate times only.
9. Please remain seated.
Be respectful of everyone