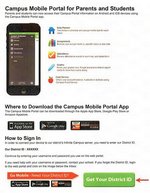 Infinite Campus Mobile App
District ID - BTJYFL
Infinite Campus App is available to help keep you in touch with your student's progress. Sign up online at https://nye.infinitecampus.org/campus/portal/nye.jsp. Set up your login and password then download the app to your mobile device and use the District ID BTJYFL to login to the app.
Where to Download the Campus Mobile Portal App: The Campus Mobile Portal can be downloaded through the Apple App Store, Google Play Store or Amazon Appstore.
Use the District ID Then continue by entering your username and password you use on the web portal.
PARENTS tab to see parent directions, skroll down to: Parent Portal Instructions Infinite Campus