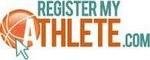 Register My Athlete Parents Spanish/English
Instructions for Parents/Instrucciones para padres
Register My Athlete allows parents to register their athletes for sports online. Here are some basic steps to follow when registering your athlete for the first time:
Registrar Mi Atleta (Register My Athlete) permite a los padres registrar a sus atletas para los deportes en línea. Aquí hay algunos pasos básicos a seguir cuando se registra su atleta por primera vez:
1. Find Your School: Find your school by going to http://registermyathlete.com/schools/, selecting your state, and finding your school. Click on the school to continue to the next step. Schools are encouraged to make a direct link from their school's website.
Encuentre su escuela: Encuentra su escuela yendo a http://registermyathlete.com/schools/, seleccione su estado, y busque su escuela. Haga clic en su escuela para continuar con el siguiente paso. A las escuelas se les anima a hacer un enlace directo desde la página web de su escuela.
2. Create an account: Now begin creating your account by clicking the "Create an Account" button. After filing in the required information the system will automatically log you in and you will be required to accept the terms of use.
Crear una cuenta: Ahora empiece a crear su cuenta haciendo clic en el botón "Crear una cuenta" (Create An Account). Después de completar la información requerida el sistema le dejara automáticamente iniciar la sesión y se le requerirá aceptar los términos de uso.
3. Add a new athlete: The next step is to add an athlete. You can do so by clicking the "My Athletes" tab on the left-hand side of the page or by clicking "Add Athlete" underneath the "My Athletes" tab. This only needs to be done once during your athlete's entire career at a school. The information entered here will carry over from year to year. This information includes your athlete's contact information and medical information.
Añadir un nuevo atleta: El siguiente paso es añadir el atleta. Puede hacerlo haciendo clic en la pestaña "Mis atletas" (Mi Athletes) en el lado izquierdo de la página o por hacer clic en "Añadir Atleta" (Add Athlete) por debajo de la pestaña "Mis atletas" (My Athletes). Esto solo hay que hacerlo una sola vez durante toda la carrera de su atleta en una escuela. La información introducida aquí se trasladará de año en año. Esta información incluye la información de contacto de su atleta y la información médica.
4. The athlete's profile: After you've created your athlete you will be brought to their Profile page. This page is a summary of their info and involvement.
El perfil del atleta: Después de crear su atleta se le llevará a su página de perfil. Esta página es un resumen de su información y participación.
5. Register for a sport: Click "+ Register for a Sport" to begin registration, you will be asked to choose which sport your athlete is registering for.
Registrar para un deporte: Haga clic en "+ Registro para un deporte" (+ Register for a Sport) para comenzar el registro, se le pedirá elegir para qué deporte su atleta está registrando.
6. Your registration checklist: This page shows the status of your athlete's registration. You will be asked to complete several steps to complete registration including agreeing to documents, and completing the physical.
Lista de control para el registro: Esta página muestra el estado de la registración de su atleta. Se le pedirá completar varios pasos para completar el registro incluso dar consentimiento a documentos, y completar el físico.
7. Physicals: Physical documents should be completed by the parents (or medical professionals as needed). Parents have the ability to upload these physical documents to the system. Uploaded documents will need to be verified by the admin at the school prior to be accepted as complete. (If a document upload is rejected for any reason, the parent will receive an email with the rejection reason. After the error has been corrected, parents will be able to re-upload the document for verification.)
El examen físico: Documentos para el físico deben ser completados por los padres (o profesionales de la medicina, según sea necesario). Los padres tienen la posibilidad de cargar/subir (upload) estos documentos del físico al sistema. Los documentos cargados/subidos (uploaded) tendrán que ser verificados por el administrador de la escuela antes de ser aceptados como completos. (Si se rechaza una carga del documento por cualquier razón, el padre recibirá un correo electrónico con el motivo de rechazo. Después de que el error ha sido corregido, los padres serán capaces de volver a cargar/subir el documento para su verificación.)
8. Complete registration: Your registration is complete once all items on the checklist have been completed.
Registro completo: Su registro se ha completado una vez que se han completado todos los puntos de la lista.
9. After registration: After registration is compete, you can login at any time to view the Status of your athlete and their participation on the team.
Después del registro: Después que el registro este completo, se puede acceder en cualquier momento para ver el estado de su atleta y su participación en el equipo.
Additional Athletes
Under the same account, repeat step 3-9 to register additional athletes.
Atletas adicionales
En la misma cuenta, repita los pasos de 3-9 para registrar atletas adicionales.
Future Seasons & Years
Once your athlete has been added to your account, you only need to follow steps 5-8 to register them for another sport.
Temporadas y años futuros
Una vez que el atleta ha sido añadido a su cuenta, usted sólo tiene que seguir los pasos de 5-8 para registrarlos para otro deporte.
Register My Athlete Tech Support
Email Support: support@registermyathlete.com
Phone Support: 435-213-1601
Phone Support Hours:
Monday-Friday 8:00am-5:00pm